The Best And Top Rated Gaming Laptops in 2014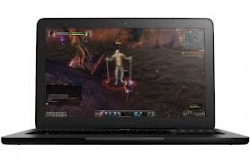 While selecting the best gaming laptop you should read the reviews about the most powerful notebook computers in the market which are especially built for game performance. The robust advancement in the computer technology has allowed us to build smarter, powerful laptop computers and is equally valid for gamer laptops. Intel Core i7 has been the dominating processor for gamers due to the high performance and dependable processing power to handle digital data of the heaviest games available. In a laptop layout serious gamers can go up to dual GPU/ graphics cards to get the ultimate video rendering for a responsive gameplay. This page will provide you collection of top 10 gaming laptop brands in 2014,. We have showcase two or more top laptop models from each of these popular gaming brand names, so you can choose a powerful ultra-portable performance machine for your gaming pleasure.
Pros of laptop for gaming: There are several benefits of owing a laptop for playing video games. The most noteable ones are:
Lightweight, Transportability/ Portable computer
Cordless Gaming with BuiltinWiFI
Long Battery Backup
All-in-one/ Single unit computer system
Support Single/Dual Dedicated Graphics/Video Cards
Cons of gaming notebook: before you buy a gaming notebook, you must be aware of the side effects of owing a laptop for PC games. There are unlike desktops that provide unlimited abilities to change your computer hardware to suit your needs.
Not Upgradable
Limited Hardware Capcity
Hardware Limitations in Custom Build Laptops
No Customize Casing Design for Enthusiast Gamers
Need Power Soruce to Utilize Full Graphics Performance
Top 10 Gaming Laptop Brands in 2014
Best Performance Notebooks Equipped with Powerful Hardware.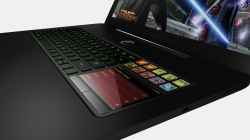 Choosing from a list of ten best notebooks for gaming will ensure that you get the best performance computer solely build for the purpose of playing video games. Presenting you top 10 laptops for gaming wiil help you short list your research into fewer products, next you can compare these ten gaming monsters and select the one that suits your gaming and budget needs. Most of the models presented in the following section has 17-inch screen size with high definition capabilities, this is due to fact that gamers need to see more details in order to find the small targets which could be real big problem with smaller screens especially in FPS-type games.
#1 – Top Rated Razer Gaming Laptop Blade
Razer Blade for Enthusiast Gamers – The Ultimate Dream Machine
Razer is a respectful name in the gaming industry due to their high end products for gaming computers. These includes the gaming mouse, keyboards, headphones and so on. The main reason of their success in the gaming community is that the owners of the company are themselves gamers. They were bunch of enthusiast gamers who group together and created a new brand for gamers. Their slogan is "For Gamers By Gamers". The skyrocketing success in the computer accessories motivated them to build their own gaming notebook and in late 2012 they finally launched the laptop in the market. Now less than 3 months they are topping the charts with their laptop and currently the most demanding laptop by gamers. Comes with Switchblade UI with 10 lcd buttons and a large lcd underneath it. Fully compatible to run heavy games such as "Diablo 3", "Star Wars", "The Witcher 2" and "Battlefield 3". Really there is no match to razer blade laptop, unique, stunning, powerful and beautiful.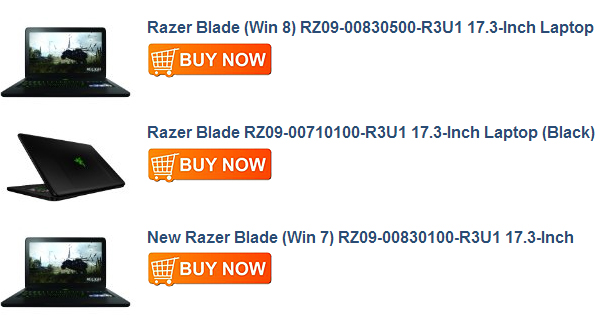 #2 – Best Selling Asus Laptop for Gamers G75VW
ASUS Republic of Gamers Gaming Notebook PC
For the past many years ASUS has been the number one choice of gamers to satisfy their gaming needs in a laptop design. As mentioned earlier all major gaming notebooks includes a core i7 processor, this is true for this ASUS model. You can get 8-16 GB of DDR 3 fast RAM memory and 2-3 GB of dedicated memory in graphics card. Asus is big name with really successful laptops, whereas their latest notebook series the republic of gamers (ROG) G75VW is currently the best asus notebook for gaming purpose.G75VW support the modern games such as Max Payne 3, Battlefield 3, The Witcher 2, Borderlands 2 to run at full HD 1080p at great speeds. The notebook comes in an elegant design with a solid look and feel because it is build to last longer and the exterior shine does not fade out. The fact that it Belong to the republic of gamers series makes it one of the best notebook in the gaming world. Another strong sides includes a 256 GB SSD (solid state drive).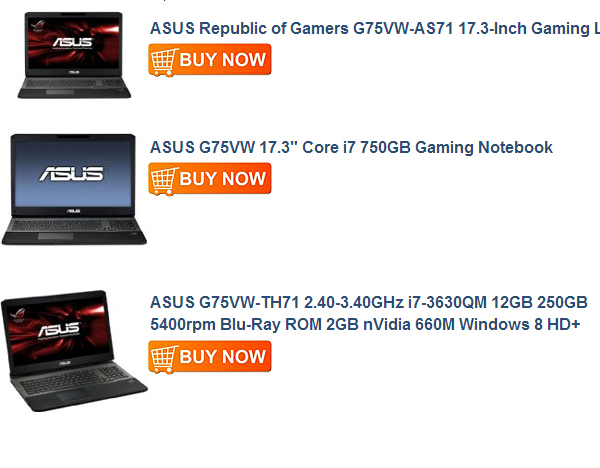 #3 – The Best Lenovo Gaming Laptop Y580
Lenovo Ideapad Y580 Budget Notebook for Games
Lenovo Ideapad Y580 offers the best deal amongst these ten laptops which is slim and attractive. You get a mid range gaming notebook under $1300 but performance is not less than any other top laptop discussed in this page. If you direcly compare Y580 with Razer Blade that cost above $2K, you will be surprised to find that specs wise this laptop is pretty close but cost almost half the price. Apart from being cheaper in price, Y580 offers the most powerful battery backup which last close to five hours on a single charge. Secondly there are built-in JBL speakers for super clear highs and deep low bass. Reliable performance comes from powerful hardware assembly, which consists of 2.4GHz Core i7 CPU, 8GB DDR3 RAM, 2GB GTX 660M graphics engine, 1 TB primary hard drive and 16 GB solid state drive. The budget gaming computer provides decent HD gameplay for modern games that includes: Max Payne 3, Battlefield 3, Witcher 2, Borderlands 2 and Star Wars.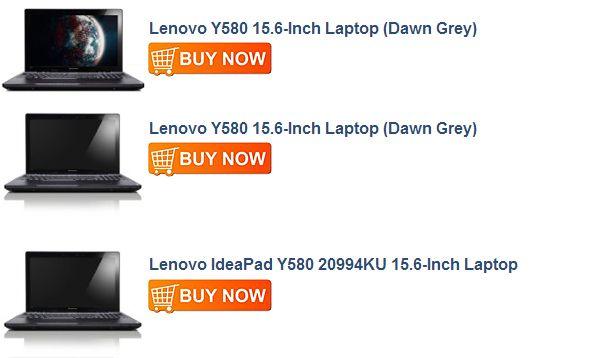 #4 – High Performance Toshiba Laptop Qosmio X870
Toshiba Qosmio X870 Gaming Notebook
A lot of people agree that Toshiba has downside in terms of designing the laptops, this is true for Qosmio x870 which comes in a dark grey surface with accent of red lining and dots. Apart from the less attractive layout, the hardware is extra ordinarily powerful to rank it amongst the top 10 laptops for gamers. The real gaming power comes from super powerful GPU engine with 3GB dedicated graphics memory which provides video rendering for extreme HD gameplays. This includes the heavy resource demanding games such as "The Witcher 2", "Max Payne 3", "Borderlands 2" and "Battlefield 3". The most impressive part of this laptop is it's supreme Kardon/Harman speakers giving deep bass for high crisp sound. Some prefer to stay away from Toshiba laptops due to their uncontrollable heating problems and secondly there is no SSD which make it longer to boot the machine. Apart from that this is still a real powerful gaming machine that gives solid performance to play the modern games at stunning speeds.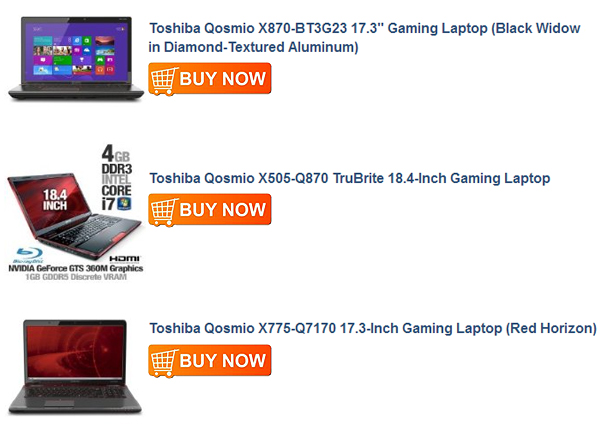 $5 – Best MSI Gaming Notebooks GT70
Extremely Powerful Gaming Laptop by MSI
Micro Star International (MSI) is a Taiwan based electronics company which is amongst the top name in the gaming notebook manufacturing for professional gamers. MSI GT570 is the latest in the gaming class which is built for performance. Lately MSI has been doing tremendous success among the enthusiast gamers. Featuring Nvidia GeForce GTX 680M with up to 4 GB of dedicated graphics memory with builtin fans that keep the machine cool but makes the machine noisy in the process. Notebook model has gone through performance test for the following games: Witcher 2, Battlefield 3. You get multiple hard drives, first is the 750GB HDD and second is a pair of 64 GB SSD that runs in RAID 0 configuration which directly affects the machine to boots in less than a half minute time. It has steelseries keyboard which makes sures you get the fastest response time during a game session. Another strong side of the MSI GT 570 is its long battery life which lets you stay away from power source for longer time.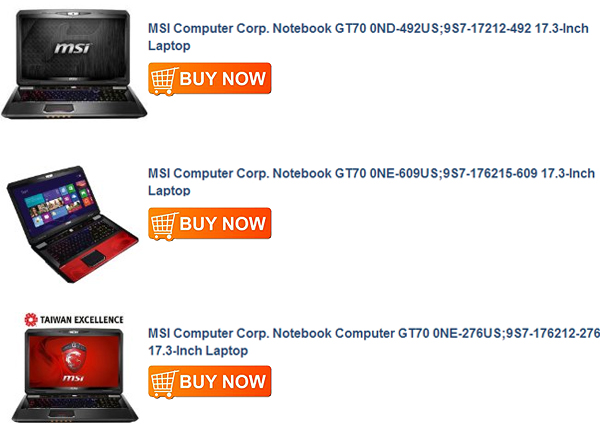 #6 – Top Rated Samsung Gaming Notebook Series
The New Game Changer, Best Value Gaming Laptop 2014
Recently Samsung has taken down all major technology contributors due to it's new innovative products that works as good as you aspect but cost less than the other big names out there. One example is it's recently taking the major smarphone share with cutting edge galaxy s3 phones. Now with series 7 gaming notebooks, Samsung is now a key player in the gaming hardware industry. Within a short period of time samsung gaming laptop reached the top 10 notebooks for games. Appearance is amazingly thin in a sleek design making it a true portable gaming computer. From the aspect of performance, there is totally no compromise and series 7 gamer notebook brings together the high specification hardware components to provide a reliable gameplay, you get thundering fast computer processing plus a fast video rendering in a great cooling atmosphere. Samsung being new in the laptop industry brings another benefits, the price of their laptops is much lower than other notebooks out there in the market, which brings the perfect bang for buck investment in a gaming computer. comes packed with a intel corei7 CPU chip, immense 16GB RAM on dual ddr3 channels, 2GB od discerete video memory from Nvidia Geforce GTX 675M graphics rendering engine makes it a truly monster machine for playing modern video games such as BF3, COD4, Witcher2, MaxPayne3 etc at 1080p high definition resolutions.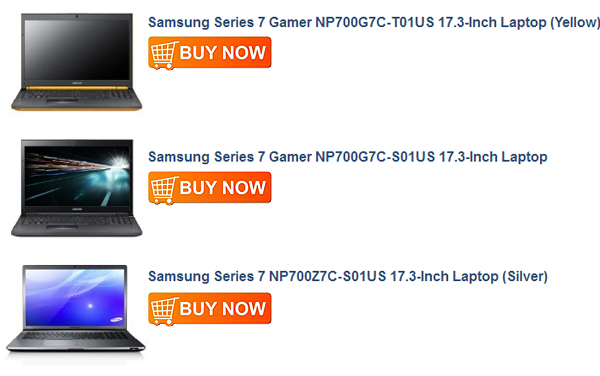 #7 – Best Selling Alienware Laptop M17x
The Real Alien Power for Playing Modern PC Games
For the past many years Alienware notebooks had been at the top of the charts in the gaming community due to it's superior hardware assembly which is built to last longer without compromising on the performance. ALienware M17x is still considered as amongst the top 10 high performance gaming notebooks. M17x brings a machine like no other simply built for gaming. Huge number of gamers love alienware products due to their design/ appearance and high specs hardware for powerful game data processing. Real nitro boosting speed comes from Intel i7 processor and GeForce GTX 680M GPU. You also get 8GB DDR3 fast RAM to backup the responsive gameplay. This combination pays back when you play games such as Witcher 2 and Battlefield 3 at 40+ FPS, you will definitely feel the heat of your alien buddy. M17x also brings a secondary fast storage medium in the form of 32GB SSD which provides a steady boost during the computer startup whereas the primary storage is a 500GB 7200RPM hard drive.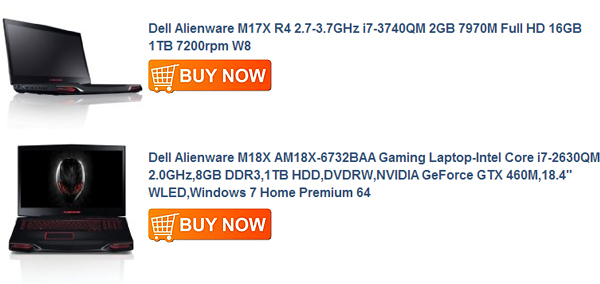 #8 – Powerful Gaming Notebook Clevo P170EM by AVADirect
High Performance Clevo P170 Laptop for Gamers
AvaDirect delivers a powerful notebook for playing PC games in the form of Clevo P170EM. Design is pretty simple, you won't find much fancy stuff but plain old boxy layout with a thick chasis which is also the main bad side of this machine. Hardware wise it brings together powerful components: core i7 processor, 12GB RAM, 4GB Graphics card GTX 680M, 750GB seagate HDD + 8GB SSD and a long lasting 3+ hours battery time. You will be surpised to find out how much powerful performance is delivered at fast frame rate. some games even reach 100fps at incredibly detailed graphics rendering. Overall it brings better performance than alienware and blade but costs less. With monster video rendering engine you will be able to play any modern games including star wars: the old republic, skyrim, BF3, counter-strike, team fortress, max payne3, borderlands etc. Finally you can turn on PhysX and tesselation to get more realistic game output. Most of the reader might never heard of the company before and prefer not to go for it but think this way you are getting better hardware set up for extreme gaming perforamnce.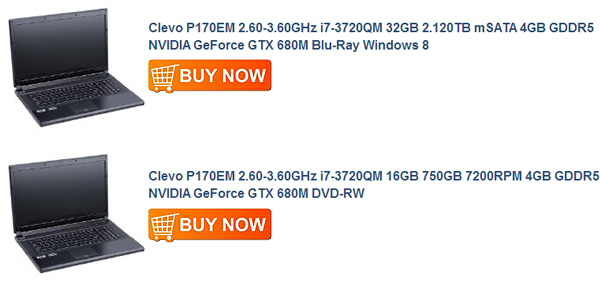 #9 – Best IBuyPower Gaming Laptop Valkyrie CZ 17
The Best Gaming Laptop for Newbie Gamers
Just like the cyberpower brand the Ibuypower also started their own assembly of laptops for gamers after great success in the gaming desktops which are still the hottest gaming computers available in the market. The laptop model is Valkyrie cz-17 with high specs for powerful game processing. These includes core i7 CPU with base clock of 2.4GHz, 16GB highly reliable DDR-3 SDRAM and finally 3GB video memory from GeForce GTX 670M graphics redering engine. regarding the storage you get a fast 7200rpm hard drive with 750GB storage capacity. Comes in a geat looking design which is built to last long. Since it is new in the race of gaming notebooks, it will take some time to get the real figure of its success in the market. Ibuypower desktop computers are famous due to their high performance and the company maintained their picture of a good gaming computer manufacturer for their new line of notebooks.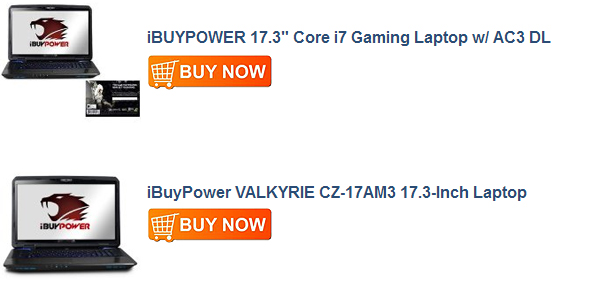 #10 – Best CyberPowerPC Gaming Laptops
Great Notebooks for Starter and Mid Range Gamers
CyberpowerPC started has gamer laptop for beginner to serious gamers. The Zeus GZX7 notebooks are perfect for hardcore gaming costing between $1300-$1800 price range. GZX7-200 model has powerful 2.4 GHz i7 Ivy Bridge processor chip, 16 GB SO-DIMM dual memory modules, a powerful 2GB VRAM GPU from Nvidia Geforce GT675M, 750 GB SATA 7200 RPM hard drive, 3 MP webcam, 17.3″ high definition screen and you can get windows 7 or windows 8 for 64 bit architecture. Looks wise it is not that slim as it has a bulky chasis and the build quality does not look that much durable. Cyberpower named this laptop after successful gaming desktop named ZEUS which is one of the best extreme gaming computer ever produced by the company. In short CP's hardware line up brings a extreme gaming experience, enabling you to run heavy PC games without any problem.