What Are The Best Laptop Brands For Portable Gaming?
Electronics market is flooded with many notebook companies with huge number of models available for PC gaming. This ranking of the best laptop brands will help any beginner or experience gamer to go in the right direction. The list of top 5 gaming laptop brands is carefully selected after thorough market research, analysis of customer buying patterns and consumer product ratings. Best laptop brands for gaming includes Asus, Alienware, MSI, Razer and Gigabyte.

Just make sure you do not  confuse with everyday computing laptops with gaming ones. Dell, HP, Acer, Lenovo, Sony etc are great laptop brands for general computing. However, they fail to reach in this collection of top five gaming notebook companies. That's true because only few companies go the extra mile in researching the needs of  modern gamers and build accordingly. Then harness the full potential of PC hardware for powering latest computer games. As matter of fact, gaming laptops is relatively a less crowded side of computing and not many companies have time to full dedicated their resources towards this new endeavor.  However for the past few years non-gaming laptop manufacturers are jumping in the competition and Razer is one of them. Surprisingly it managed to make a place in best game laptop companies list.
What is an Ideal Gaming Laptop? Let's Say Dream Laptop For Gamers
A Laptop Machine Built for the Best of Gaming Addicts
Run the latest and most demanding game titles without any issues.
Factory overclocked for fetching maximum juice out of available hardware.
Fast and steady speed during heavy video game sessions.
Process hard to digest video game graphics like a breeze.
A lightweight elegant looking design which is hard to break.
Easy to organize, operate, upgrade, clean and move.
Reliable and fast backlit keyboard with macros keys, plus a high dpi mouse.
Absolutely no heating issues even in harsh summer months.
Long hours of battery timing under full gaming load.
Not everything mentioned above has been achieved by laptop manufactures. Especially the point about flexible hardware up-gradation is still a thing of future. However, MSi upgrade-able MXM design now offers to easily upgrade graphics cards. So we see the transition has already began but this technology will take many years to reach the masses.  Plus the battery timings are not super realistic as there are times we need to stay way from a power plug for very long time let's say 5-6 hours. Gaming session won't go that long under available laptop battery technology. So there is a room to fill for a perfect dream gaming notebook.
Top 5 Gaming Laptop Brands
Asus, MSI, Alienware, Razer and Gigabyte.
Gamers needs stubborn machines that won't compromise on performance, keeps a fast steady speed, no heat ups, run for long hours even for days without a complain. Not all laptop manufacturers are able to build notebooks that quality to be true gaming machines. Here we are showing only the toughest laptop brands that are hard to beat. Each of the these five brands is presented with three top models along with market price and purchase details. So basically we are showcasing 15 best laptops for playing computer games.
#1. ASUS – Inspiring Innovation – Persistent Perfection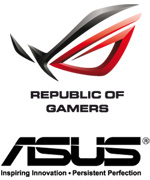 Asus is still unbeatable gaming laptop brand, managed to prove its trust in the ever growing gaming community. Various benchmark and gaming hardware reviewing authorities accept them as number 1 best laptop brand for playing computer games. It does not matter if you are entry-level, enthusiast or a power hungry serious gamer, Asus has a nice laptop for each target group. Once you move to reliable Asus machine e.g GL551 model under ROG (Republic Of Gamers) G series, it is highly unlikely that you will switch to another notebook company. Built to deliver more power on the go in a compact lightweight design. Each Asus machine comes with state of the art thermal solution to deliver a cool gaming experience under full load. Strike the right keys in the dark with keys glowing on the keyboard.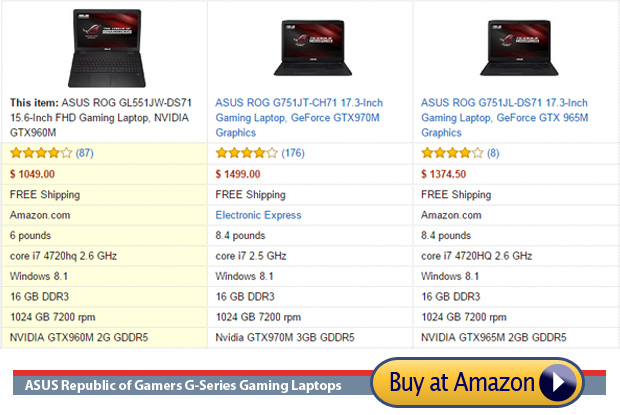 Under Republic of Gamers G-Series GL551, G751 and G750 are three coolest Asus laptops. However there are variations of the hardware under each model which you can look in laptops detail page.
#2. MSI – Gaming G Notebook Series With True Fire Power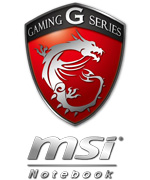 MSI is a one of few brands that are ranked as global leader producing the best gaming gear. Apart from their highly popular gaming motherboards and graphics cards, they also make gaming desktop and notebooks. The Taiwanese computer hardware manufacturer is second most popular gaming notebook in the world. With MSI notebook you get the true firepower needed to win in game battles. MSI has crafted new cutting edge notebook series namely GT, GE, GP and GS.  Each machine is extremely slim  in an ergonomic design but proves to be deadly weapon against opponents. The reason is that it is packed with the right amount of firepower with the sole purpose of "WIN". If you are real serious for PC gaming then look no further MSi is the right destination for your performance gaming needs.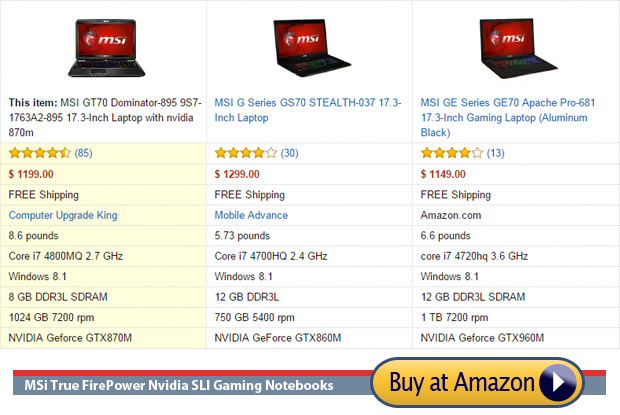 Nahimic: hear loud and clear HD sound beyond the limits where game comes true.
MXM SLI: Nvidia Geforce GTX powered SLI Graphics for Ultimate in-game Performance.
Shift: Easy switching between pre-set profiles for controlling system performance and temperature.
Upgradeable MXM Design: That's shocking for many a laptop with upgradeable graphics cards!
#3. Alienware – The Ultimate Performance Gaming Experience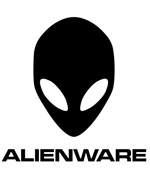 Do you need a reliable machine to play on ultra settings or a beginner level fun laptop for decent gaming? Well Alienware has a gaming solution for all budget groups. Alienware is one the first laptop brands that started making game grade machines for consumers. Alienware is known for producing out of this world attractive design laptops to join the fan-hood. Most common complain from consumers is that they have outrageously priced notebooks. Alienware computers are unique in their looks, totally out of this world. Ya their laptop design is inspired by Aliens and UFOs. The process of crafting these unique alien design lead to heavy weight. The purpose of owing a laptop is that they can easily portable. If the design ends up in a bulky and heavy laptop, that goes against the primary rules of a notebook.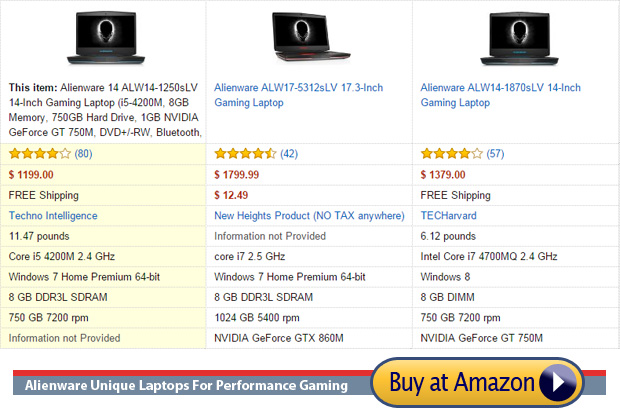 Alienware offers a game changing deal, providing desktop performance in a portable laptop. Playing most demanding game titles at high settings by utilizing Alienware hardware for the ultimate gaming experience.
#4. Razer – Blade A Gaming Laptop Designed For Play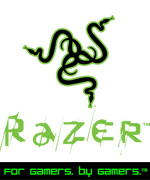 Undoubtedly Razer is one of the best laptop brands to satisfy your portable gaming needs. Razer blade is a gorgeous blend of power and beauty in the form of a thin gaming laptop. Blade is result of years of research and hard work to build a dream gaming machine from drawing board to reality. Keeping the tradition of introducing unrivaled devices (pc or peripherals), company is doing wonderful job in bringing the best looking products. Blade comes in various sizes and hardware specs with a fancy look. However the latest 5th generation in blade series is simpler in design but comes with a mammoth 3k resolution for ultra HD gaming graphics. Whereas the prices starting from $1599 (basic model) and go all the way up around $2499 (a fully loaded model). Fulfill your gaming dream by getting a blade today.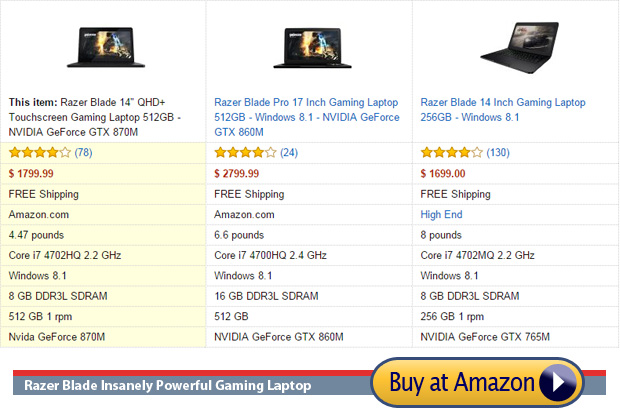 The killer stunning looks and enormously powerful hardware simply make it a genuine gaming machine that's hard to beat. Success of Blade laptop proves Razer's top ranking in the list of best laptop brands for insane gaming performance.
#5. Gigabyte – Pro Laptops For Budget Conscious Game Players.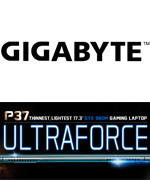 Gigabyte is one of the top PC hardware manufacturer. Primarily popular due to it's gaming motherboards and graphics cards, recently entered the laptop competition. Apparently their gaming machines are powered with their own motherboard and video card. This enables them  to deliver realistic game performance in an economical price. The flawless engineering brings thin portable laptop which is lightweight but has the right amount of game power packed in a slim design. P37 ultraforce is one of the latest gigabyte notebooks which is one of the thinnest and lightest gaming laptop available in the market. Undeniably epic notebook powered by Nvidia GTX 950M to break the graphics speed barriers. Enjoy high setting "The Witcher 3 Wild Hunt" at stunning clarity and responsive gameplay.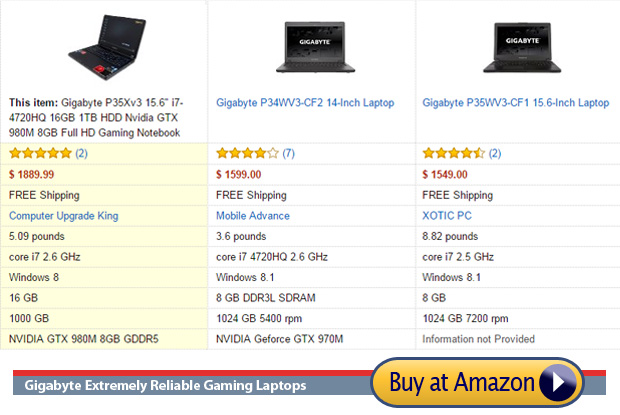 Equip yourself with Gigabyte powered ultra force gaming laptops to WIN. Geforce Nvidia GTX 970M / 980M Gigabyte machines are some of the best performance gaming laptops to play latest game titles at ultra settings.
In short, these 5 best laptop brands brings you the most reliable gaming notebooks in the world.