Bose SoundLink Ultra Portable Mini Bluetooth Speaker
A mind blowing product which is customer favorite  best selling standalone wireless speaker on the internet. Bose SoundLink small size single unit speaker delivers unmatched audio performance for all your daily sound needs. This is a mini audio bomb pack that works a mini sound engine to compile music wirelessly with wide range of Bluetooth compatible electronic devices. The only other thing you need to carry with you is a power charger thats it, you are free to go anywhere you want and whenever you want to play just connect via Bluetooth to closely available device of your or a friends and enjoy.
Innovatively Built For Modern Day Mobility Needs
The single unit is suitable to carry in your backpack or commute/ messenger bag, making it possible to move the sound with you wherever you go. You will enjoy placing it in your car and playing songs through the journey by connecting your favorite music device through Bluetooth wire-free interface. The wireless speaker plays up to 7 hours on a single charge, also the lithium-ion battery offer fast recharge. The package also includes charging cradle, wall charger, auxilary and USB ports.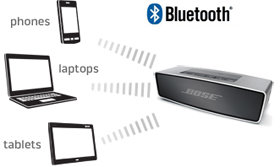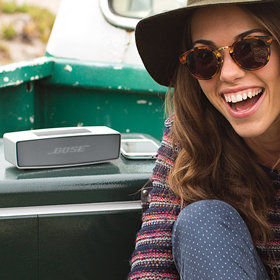 The Bluetooth connection converts it into a universal audio gadget as it can play sound from any compatible device. It does not really matter if you own an Apple iPhone, Macbook, Android smartphone, gaming or work notebook, iPad or android based on any other tablet, though you can convert your old PC or Mac  into a Bluetooth compatible by wiring a bluetooth connection generator via USB interface. Undoubtedly these features makes it an ideal notebook speaker, works flawlessly with Apple Macbook series  laptops. At the top of the rectangular shaped speaker box, it has controller buttons such as power, mute, volume jacks to increase  or decrease the sound level easily.
Bose Mini Speakers Delivers Premium Sound Quality On The Go
World class sound just got better, SoundLink mini speaker is equipped with innovative technology of high performance dual passive radiators and two powerful transducer speakers. Housed in a anodized aluminium casing which is built in a modern design. In order to decorate it future according to your taste, you can purchase customized colored covers such as red, blue, gray, yellow etc.  The cover not just decorates your sound device but is also protects it from dust and scratches to ensure it for long lasting use. The ultra-compact design produces better sound in wireless environment. It is small and lightweight simply hold it in your hand and dance with it! Great way to enjoy picnic, adventure trips as it serves as great companion for your travel needs. Whether you are a student, working person, travel enthusiast, housewife etc Bose mini speaker will satisfy your  quick sound-play needs.
Enormous Positive Response From Online Consumers
Bose being a global leader in making audio devices, it has good reputation across the globe. Just a case study of Amazon indicates a 100% satisfactory feedback from consumer who bought the Bose Soundlink mini speaker. Grossing a total of 3500+ customer reviews and more than thousand plus queries answered, the current rating of the SoundLink is unbelievably  5 out of 5 on five star rating scale. Making it obvious that Bose is professional brand in producing premium quality audio devices, SoundLink mini wireless speaker is just one product from their large collection.