The super compact design makes it an ultra-portable small sized music speakers that goes well in your notebook carrying case or backpack and it is so lightweight just like standard computer mouse. Kinivo zx100 has multiple speaker connectivity option via auxiliary 3.5-mm audio port allows you to run cool music in your car, at school, at home etc. This gives you liberty to get the music input from desired audio source including iPhone, Blackberry, Android smartphone, laptop, Macbook, desktops, MP3 and CD players, iPad or other tablets devices. Sound  can go more powerful and louder by connecting additional speakers in a line through expansion cables. kinivo zx100 mini bass resonator speaker does not require a direct power supply as it runs on a rechargeable battery that easily last for the entire day.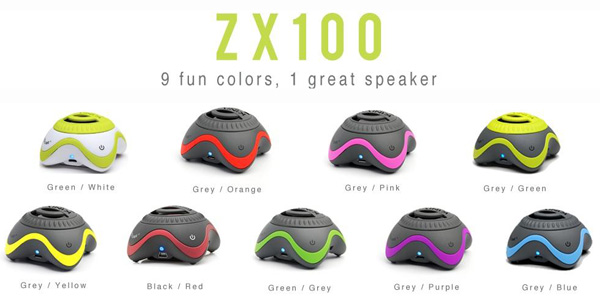 Kinivo ZX100 Mini Powerful Small Speaker in 9 Attractive Colors
I am sure your first impression after looking at the above kinivo zx100 mini  image will be 'WOW', so many choices for this cool looking adorable speaker! ZX100 comes in variant flavors with nine color schemes these includes: Black + Red, Green + Gray, Green + White, Gray + Blue, Grey + Orange, Grey + Pink, Grey + Purple, Grey + Yellow. This makes it easier for you to choose what suits you best or if you know favorite colors of your loved one, you can give it as a gift. Price of this aesthetically pleasing modular shaped speaker is amazingly low costing only $18.99, obviously an awesome deal considering the size and price.  Zx-100 is cleverly built to occupy less space as its whole center body can be manually pull upward while bass resonator  creates its magical sound. One of the unique aspect of this tiny speaker is its 360 degree sound output so you never need to worry of adjusting the position to direct the sound to a particular side.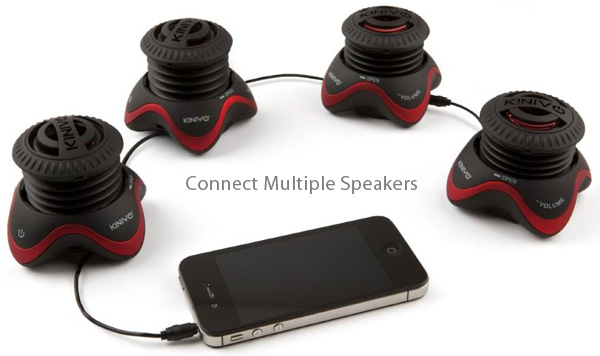 Kinivo Sound Expansion through a mini speaker device
Obviously this is a small speaker so its sound level will be limited still great for covering a small area that typically used by single person but there could be need of higher sound in larger area such as a living room when you have invited friends for get together. It is super easy to connect more speakers in a series and increase the sound, go from small sound area to a full heavy duty party mode with any number of tiny sound systems in a network as desired. So you will assemble a sound system with one source (for example you have Apple iPhone playing your favorite song) with multiple satellite speaker units to give a virtual 2.1, 5.1 or even 7.1 sound system you just need large size cables to place each mini satellite in different corners of your room, though not a replacement to professional sound system but a fun way to enjoy a low end alternative. Best suited to play music for few people wherever and whenever you need it. Definitely suitable for your computer desk as it will produce loud sound for 10-15 feet working area.
The small package includes: Kinivo ZX100 mini speaker in your ordered color, USB charging cord, 3.5mm audio cable, carrying pouch.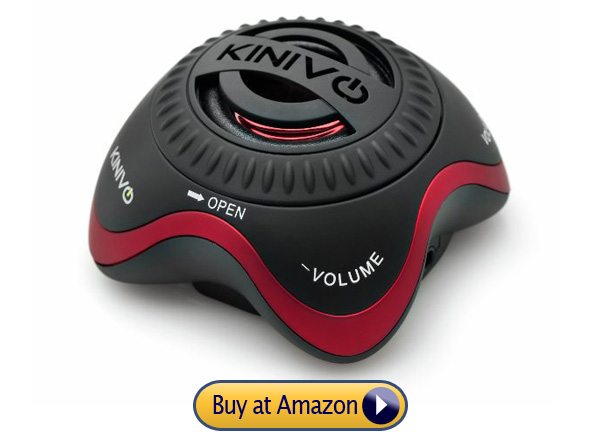 In a nutshell : Kinivo ZX100 mini is one small music speaker with so much fun for all day long.