GE70 is not an ordinary laptop nor another gaming computer instead it is built for expert gaming gurus that needs next generation machine that does not gets tired  while long hours of gaming session and does not crash nor slows down to affect performance during multiplayer gameplays. MSI GE70 Apache Pro Review: This piece reviews this awesome MSI machine in terms of appearance, hardware and system performance in gaming sessions.
Apache Pro GE70 – Simple in Appearance with a Killer Look
Built in right size of  17 Inch to Produce Epic Gaming Environment
Probably the coolest looking gaming machine in town assembled in notebook format, although it has a simple design. MSI crafted this gaming monster in a sleek matte alumium black design accented with red, green and blue neon lights under the keys, overall it gives a rainbow effect on the keyboard. Whereas the exterior has a red line accent that moves in horizontal fashion. The top lid has a fine texture of grayish vertical lines, moreover the MSI brand name and "Gaming G Series" red dragon logo on a shield is placed beautifully at top top center. Plus it has blue led status light that display just next to the mouse trackpad. Display-wise it is not a true widescreen nor a square one, consider it be a middle version purposely designed to deliver a good game view, the 17.3 inch screen is perfectly built to display beautiful graphics of games, movies and sports. Finally this reliable gaming system is built in thin & lighter weight design which makes it ultra portable. The only downside is that it does not have a touchscreen, all the controls are doable through keyboard and mouse commands.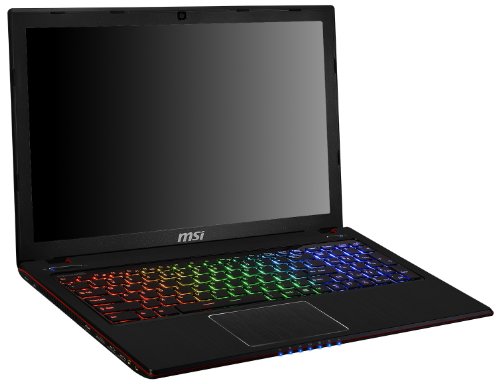 Ultimate MSI PowerHouse To Participate in Game Marathans
Rock Solid Hardware lineup that Runs this Gaming G Series Laptop
In order to harness the true power out of this dragon Haswell  architecture based core i7-4700HQ 3.2 GHz fourth generation processor is ready to deliver un-matchable fast computing. The secondary processor specifically for video render handling tasks is GTX860M Geforce by Nvidia which streamline graphics on screen with 2 Gigabytes of dynamic video memory so it will be impossible to witness a delay in graphic rendering. For flawless multi-tasking 12GB of DDR3 dual module based memory tuned at 1600MHz pace is ready to rock your gaming experience. Since games are getting heavier and require more storage area, GE70 comes with a fast 7200RPM  SATA based terabyte hard-drive. The whole game book only weighs 5.95 pounds making it one of the lightest gaming machines available in the market, not to mention it has lowest weight in whole MSI gaming series notebooks. Rich graphics details are displayed as it is equipped with a low-glare full high definition LED supporting resolution of 1920 x 1080. Killer E2200 game networking chip is on auto-pilot in background to intelligently manage network traffic and give better control of your PC communication with other systems and devices. The main board supports USB 2.0 and USB 3.0 technologies, two ports available in each category. The coolest part that you will enjoy being a professional gamer is it's customizable SteelSeries backlit keyboard. The built-in clickpad does have some accuracy issues and it is advisable to use a gaming grade mouse (wired or wireless) for better precision.  Some users might be dissapoint by the battery life but it  still  delivers better than average battery power.
Software Lineup – System Command and Control Center
Fully control your gaming experience the way you like it
Microsoft Windows 8: Now manage your computing tasks in more organized manner with  Windows 8.1 pre-installed operating system. For those who feels windows 8 app style is too annoying and thinks windows 7 old "Start menu" is the way to go can custom install program such as Start8 or Startisback.
SteelSeries Engine: Easily control your keyboard through SteelSeries Engine application that let you manage keyboard settings, set up macros and assign custom key led colors, though you can select any color that suits your technology taste. Easily export your custom keyboard personal profile and share with fellow gamers.
Dragon Gaming Center: A nice piece of software to monitor and organize your notebook for performance. Easily perform tasks like quick launch list of favorite games and other computing applications. To avoid obstacles in system performance a dedicated system health information widget is available at your service.
Nvidia Control Panel: Manage your graphics engine effectively to improve performance in games. The dynamic and custom video engine settings allows you to harness more power out of your graphics card. Easily switch to Intel integrated graphics to save battery life for normal computing tasks such as browsing internet. Simply learn some clever techniques to get best performance out of your machine!
Considering the customer feedback collected from different online stores, majority of them rated it 4 to 5 stars on a five star ranking system. This clearly proves the consumer satisfaction is excellent that makes it ideal choice for geek gamers seeking to upgrade their gaming rig. Although it comes with a heavy price tag summing more than twelve hundred dollars, still it is way cheaper than exclusive gaming laptops of Dell, Alienware etc.
In a nutshell, GE70 is targeted towards expert mode gaming gurus that cannot afford a slight delay in system performance. Decide at your own, do you need an average gaming machine that stuck/ lags in the middle of  an important gameplay? or a performance machine that is built to deliver power at the right time whenever you need it.